All You Need To Know About The Iconic Manali to Leh Road Trip
The road to Ladakh may be long and winding, but it certainly requires no introduction. Undoubtedly India's favourite destination, the rugged and virginal beauty of Ladakh, the 'land of high passes', is almost nonpareil and the excitement only magnifies when you take a road trip to the region via Manali. This Buddhist kingdom with its unending cold deserts, monasteries, stupas and mud-brick houses exudes a trance-like air and the daunting mountains guard this fabled land with integrity. The prayer wheels and flags spin and flutter in all their glory, as if they were beckoning weary travellers with all the warmth in the world. The society is traditional, mirroring the one in Tibet, and the locals are all amiable and homely, perhaps even ready to offer you a complimentary bowl of Maggi and steaming momos. Right from the camels of Nubra to the magically azure waters of Pangong Tso, Ladakh will make sure you are in a state of trance throughout. Add to all of these the charm of Manali with its pinewood forests, snow-capped peaks, peaceful temples, quaint villages and the graceful Beas River and you have the perfect journey. With a plethora of trekking opportunities, fantastic scenery, great accommodation options and an elaborate spiritual facet, Manali is a great place for travellers to explore before embarking on the adventure of a lifetime. Both of these Himalayan gems will always welcome you with open arms and to that end, here is a 10 day / 9-night itinerary to help you make the best out of your Leh Ladakh Bike Trip.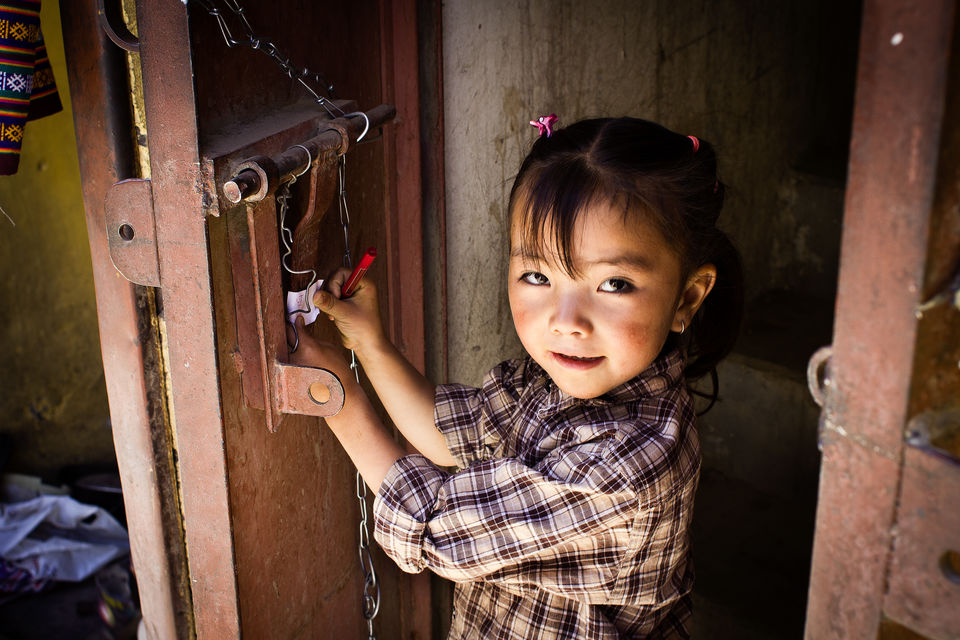 Image Credit: Roberto Santini
Getting Around in Manali and Ladakh
Both Ladakh and Manali are tourist magnets and transport therefore is not a problem. The best way to get around Manali is by hiring a taxi for around Rs. 2000 a day and if in case you are a biker, you can hire a motorbike (for your onward Ladakh Bike Trip) for around Rs. 1500 a day. Public buses, although cheap, are unfortunately not very reliable. Ladakh has the same problem with buses and taxis, therefore are reliable options, especially in Leh. However, in order to explore the entire region, you should ideally rent a car (a steady 4WD) for around Rs. 3500 a day or a bike for about Rs. 1500 a day. A car or a bike is imperative for your road trip from Manali to Leh.
Day 1 & 2 : Manali
Manali is around 600 kilometres from Delhi and reservations for buses can be made from the city at the ISBT or the Himachal Tourism Office near Mandi House. Moreover, you can book tickets online for this 14 hour journey. If you're travelling from Chandigarh by taking a train to the city from Delhi, a private taxi can be hired, or you could get on a state transport bus and the journey is roughly 9 hours long. Moreover, there are flights (albeit irregular and expensive) from Delhi and Chandigarh to Kullu airport which is some 50 kilometres from Manali.
Amazing Things to Do in Manali
1. Exhilarating activities such as skiing and mountain biking are synonymous with the Rohtang Pass. A trip to this celestial passage is therefore imperative before you proceed with your Ladakh Bike Trip.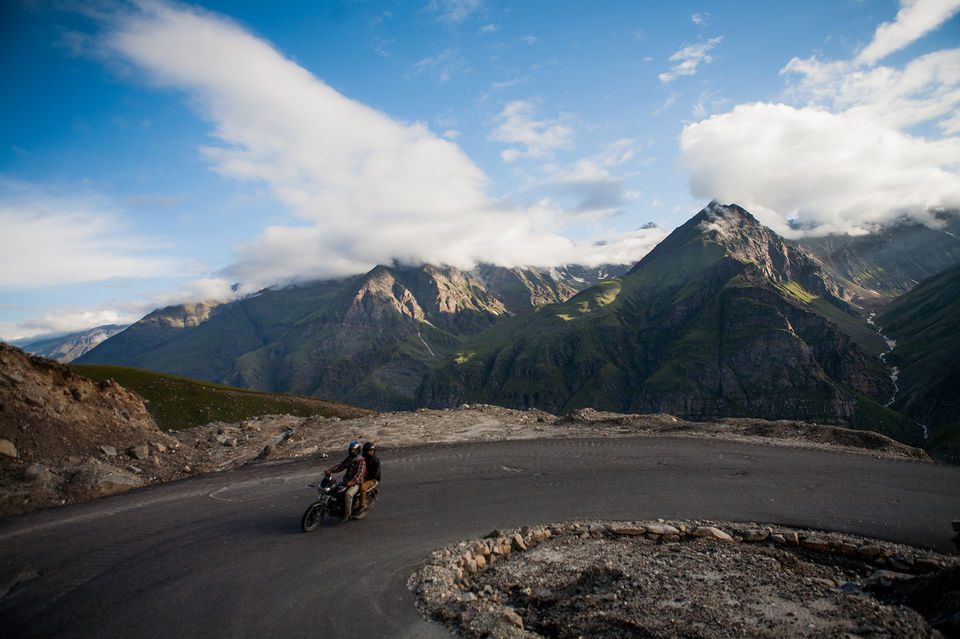 Image Credit: sandeepa chetan
2. Paragliding in Solang Valley is an experience you absolutely cannot miss as you will literally be on cloud nine.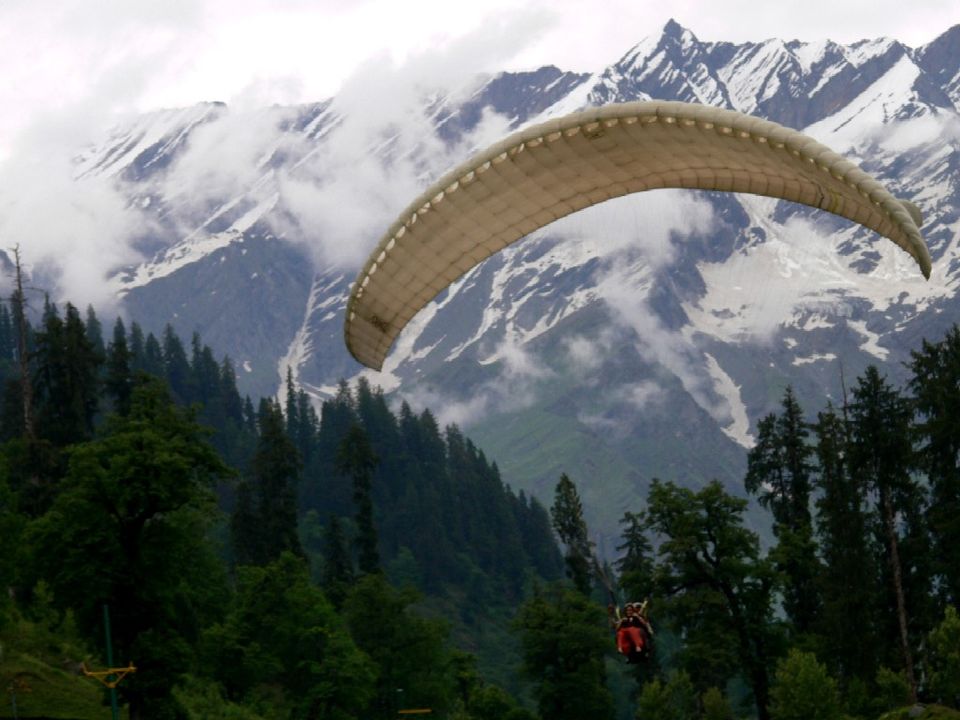 Image Credit: Raman Virdi
3. Visit the thoroughly rejuvenating hot springs of Manikaran. It is a pleasant two hour drive from Manali.
Image Credit: Sandeepachetan
Best Rated Places to Eat in Manali
1. Johnson's Cafe – If in case you fancy a wholesome fish dish, Johnson's Cafe is exactly where you should be. The beautiful outdoor seating is a major plus.
2. Casa Bella Vista – This restaurant undoubtedly serves the best thin crust pizzas in Manali. It however is entirely vegetarian but totally worth your time and money.
The Manali – Leh Highway
Image Credit : Prabhu B Doss
Open from the months of May (end) to September, the Manali-Leh Highway is as delightful as it is intimidating and is the core of a Leh Ladakh Bike Trip. A journey along this route is pretty much akin to your path to enlightenment. It is approximately 480 kilometres long and the journey to Leh takes around 2 days to complete with an overnight stay at either Keylong, Jispa or Sarchu. The snow-capped mountains, deep valleys and humble villages on your road to Ladakh add to the charm of the trip and the memories will forever be indelible. You could either rent a 4WD or a bike from Manali for this mammoth of an odyssey and keep in mind that petrol pumps are only at Tandi and Upshi. Additionally, you could take the HPTDC bus service for Rs. 2000 which includes overnight accommodation at Keylong and food.
The route for the Ladakh Bike Trip is as follows: Manali – Rohtang Pass – Gramphu – Kokhsar – Keylong – Jispa – Darcha – Zingzingbar – Baralacha La – Bharatpur – Sarchu – Gata Loops – Nakee La – Lachulung La – Pang – Tanglang La – Gya – Upshi – Karu – Leh.
Day 3: Jispa (Overnight Stay)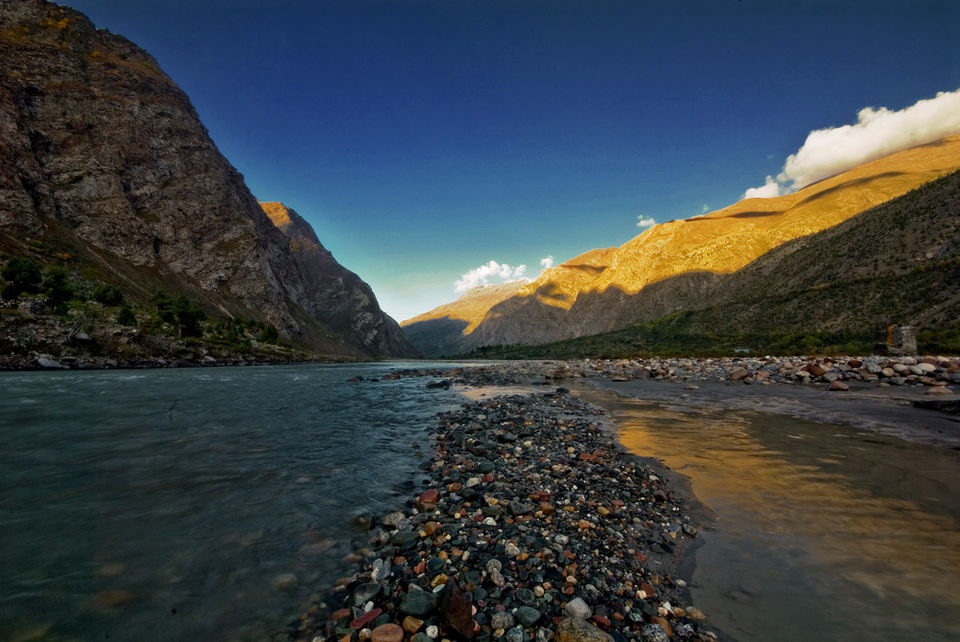 Image Credit: Photographer
140 kilometres from Manali, Jispa has some of the best overnight accommodation options for your Manali-Leh journey. Alternatively, you could also halt at Sarchu which is at an even distance from Manali and Leh (around 220 kilometres). However, altitude sickness is a major challenge and it is essential to give yourself time to acclimatize before you proceed with the rest of your Leh Ladakh Bike Trip.
Day 4, 5 & 6: Leh
480 kilometres from Manali, arriving into Leh is a massive relief, although acclimatization is a challenge. The heartbeat of a Leh Ladakh road trip, this flawless mountain district is a gift of the gods. Of all the sights on your road to Ladakh, Leh, undoubtedly is the most important.
Amazing Things To Do in Leh:
1. Watch your vehicle attain a life of its own at the Magnetic Hill. For most travellers, this scientific wonder is one of the most popular things to do during a Leh Ladakh Road Trip.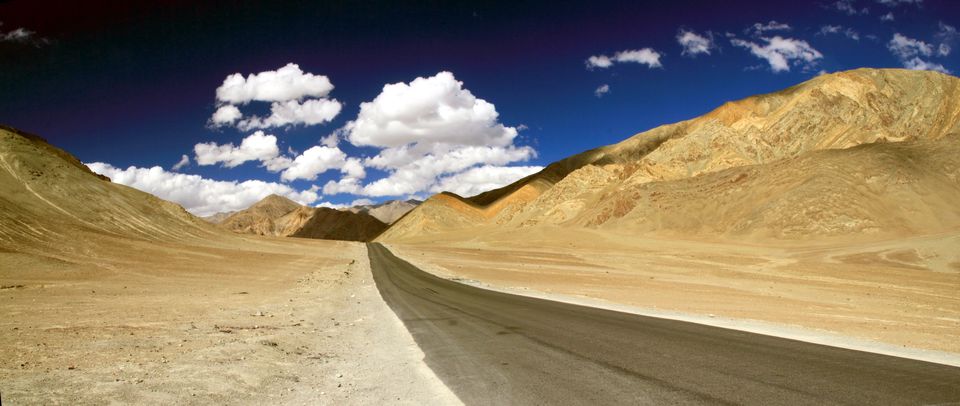 Image Credit: Fulvio Spada
2. Visit the colossal white spired Shanti Stupa and take some time out to meditate and enjoy arresting views of Leh. It rightly serves as a symbol of sorts for Ladakh.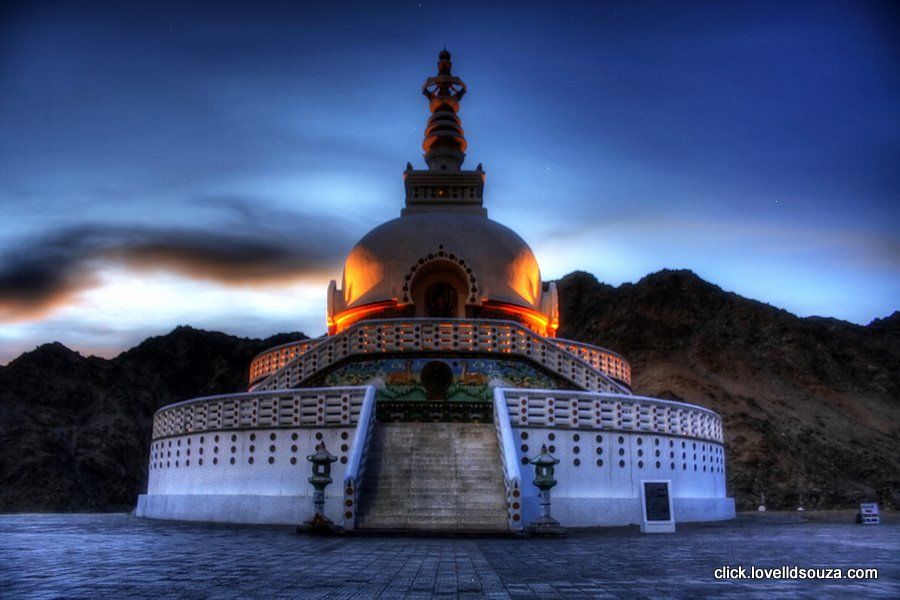 Image Credit: Lovell D'Souza
3. The largest and the most beautiful monastery in central Ladakh, Thikse Monastery is a major drawcard for developing a better understanding of Buddhist art and culture. This experience will be the most enriching during your Leh Ladakh Road Trip.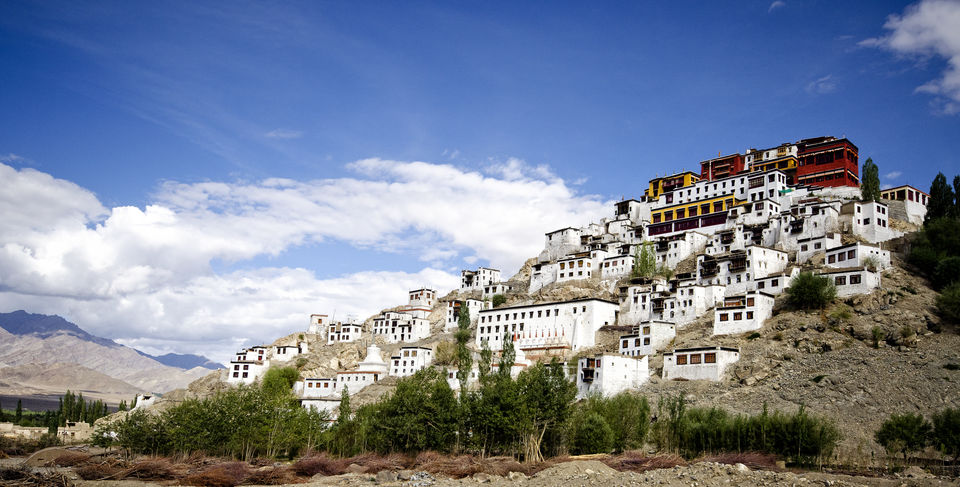 Image Credit: Prabhu B Doss
4. Go right up to the Khardung La, the world's highest motorable road. Relishing a bowl of Maggi at Khardung La is somehow an experience in itself and is an essential feature of your road to Ladakh.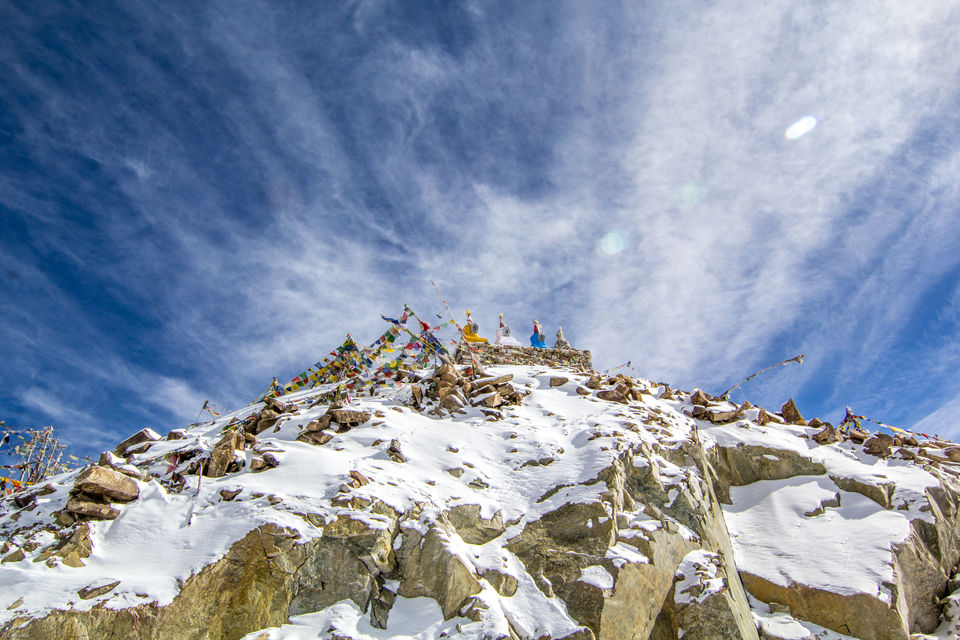 Image Credit: Saurabh Kumar_
Best Rated Places to Eat in Leh
1. Chopsticks Noodle Bar – One of the most popular pan-Asian restaurants in Leh, Chopsticks serves excellent food and is a great place to connect with fellow travellers.
2. Bon Appetit – This stylish multicuisine restaurant offers delicious food and often plays host to live musical performances. It might just remind you of a mountain village in Europe and features in almost every Leh Ladakh itinerary.
Day 7 & 8: Nubra Valley
A six hour journey from Leh by virtue of the mighty Khardung La, the world's highest motorable road, brings you to the stupendous Nubra Valley with its never-ending expanse of sand dunes and oases. A proud feature of a Leh Ladakh Bike Trip, you can halt either at Diskit or the Hunder village in the valley. Since there are no restaurants in this cold desert, your camp/hotel should arrange food for you.
Amazing Things to Do in Nubra Valley:
1. Sail through the white sand dunes of the Nubra Valley atop a Bactrian Camel. Double-hump camels are exclusive to the region and are therefore shining gems on the road to Ladakh.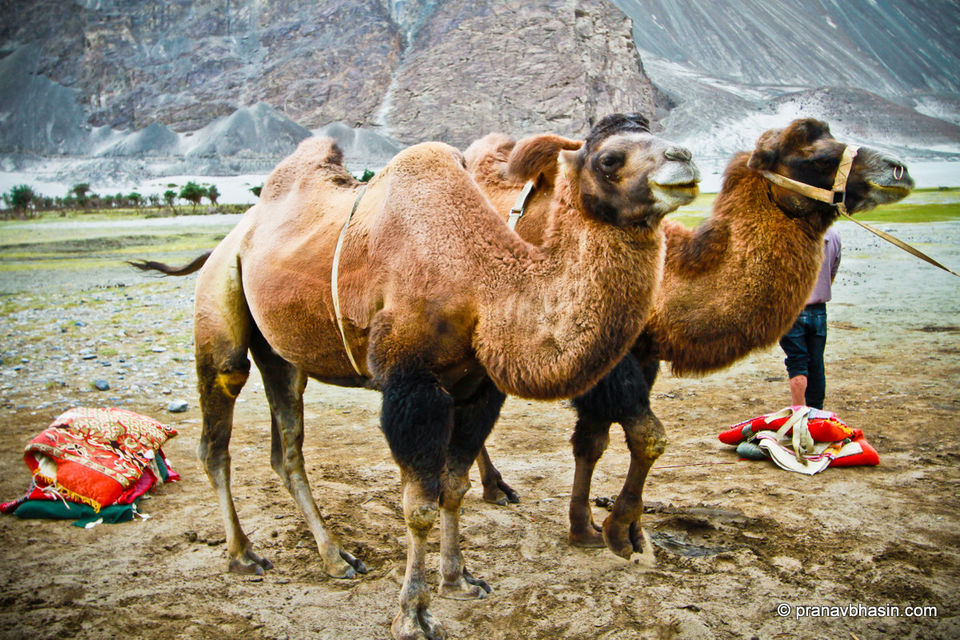 Image Credit: Pranav Bhasin
2. The Diskit Gompa, Nubra Valley's oldest and largest monastery should be an integral part of your Leh Ladakh Road Trip. It is also home to a gigantic statue of Maitreya Buddha which is absolutely stunning.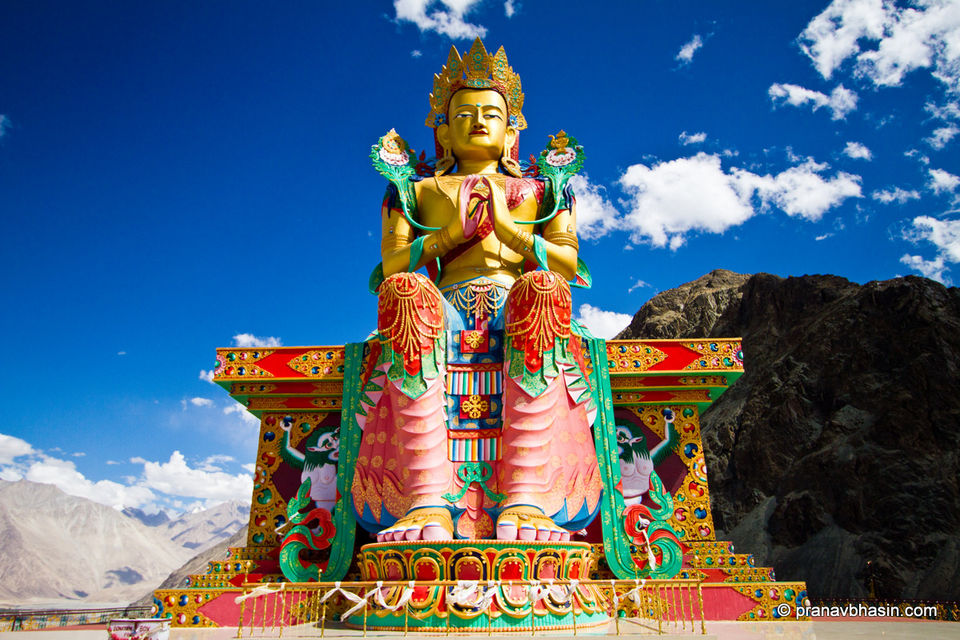 Image Credit: Pranav Bhasin
Day 9: Pangong Tso
Undoubtedly a trademark of the region, Pangong Tso is perhaps the most exciting element of a Ladakh Bike Trip. Around 170 kilometres from Leh and 240 kilometres from Nubra Valley, the mystical blue lake is a popular day trip option if you leave early in the morning. There, however, are camps around the lake where you can stay overnight and basic food is available. Pangong certainly is a slice of heaven.
Amazing Things to Do in Pangong Tso
1. Let the beauty of the Pangong Lake transport you into a state of trance. There is a reason why Ladakh Tourism and Pangong Tso are almost synonymous.
Image Credit: Alex Hanoko
So what's stopping you from taking that Leh Ladakh Bike Trip?
 Last updated on the 9th of February, 2016.
Manali
While it has gradually morphed into a concrete jungle, Manali still has this magical air about it. Right from adventure sports enthusiasts to hippies and honeymooners, this lovely retreat has a little something for everyone. It therefore comes as no surprise that Manali boasts of the fanciest hotels and cafes in the north and is always brimming with tourists. Interestingly, it also serves as the perfect gateway to the Rohtang pass and Ladakh. A journey along the Manali-Leh highway is in fact termed one of the best in the world.
Jispa
An exceptionally tiny village in Himachal Pradesh, Jispa is as humble as a place could possibly get and is a popular stop for travellers journeying along the Manali-Leh highway. With excellent views of the mountains and the Bhaga River, this village has the potential of being a destination in itself and not merely a stop along the way. Additionally, Jispa is also home to a tiny museum and some decent hotels.
Leh
The mother of all destinations in India, Leh has no parallels and is perhaps an idyll for travellers all over the world. With forts, stupas and humble homes that are deeply embedded in the Tibetan culture, this desert city is enchanting and keeps one coming back for more. The multitude of hotels, stylish cafes and restaurants is yet another plus. The high altitude, however, is a bit of a deterrent and acclimatization is therefore imperative. This moonscape is a good 475 kilometres from Manali and the iconic colourful prayer flags serve as the perfect welcome.
Nubra Valley
What was once a part of the fabled Silk Route, Nubra Valley is home to some of the most incredible mountain landscape in the Himalayas. With unending sand dunes and oasis hamlets, this region is made of dreams and possesses an inexplicable seductive charm. The ruined palaces and monasteries only help in magnifying the mystery. The valley is a five hour drive from Khardung La, the world's highest motorable pass and is an essential feature in every Leh Ladakh itinerary.
Pangong Tso
Pangong Tso will instil your belief in magic; it is an emotion in an array of colours- a little bit of blue here, a stroke of indigo there and a whole lot of golden everywhere. This alluring lake stretches to some 150 kilometres, right up to China and has rightly served as an emblem for Ladakh tourism. Day trippers usually do nothing but stare at its magnificence for several hours altogether and still cannot have enough of it. Tented accommodation, however, is available for those who would like to stay back and perhaps even explore the '3 Idiots' sand spit.
Source: www.tripoto.com